Getting started with The Schools Guide
The movie
Visual learners can use the video below. For those who like to read, the text that follows covers more or less the same ground (with a few bonus details):
Finding a school
From the
home page
, or using the form below, enter the name of any primary or secondary state school in England, then select an item from the list that appears:
If the school you're looking for doesn't appear then try variations on its name; you can also enter the school postcode.
Each school has its own page, which starts with a brief description. There's also a summary score for the school, which is calculated from a list of different indicators: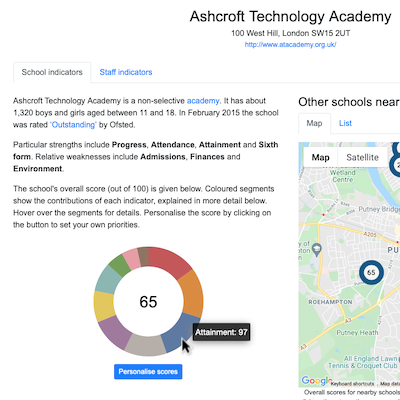 The coloured segments around the score show the indicators that contribute to it. Hover over them to see the name and value of each indictor.
Reading school indicators
There are up to 10 indicators for each school, covering areas from academic 'Attainment' and 'Progress' to local 'Environment' and post-school 'Destinations'. Primary schools have up to 8 indicators because 'Destinations' and 'Sixth form' do not apply. Some schools, especially very new ones, may lack data for one or more indicators.
Each indicator has a score from 0 to 100. This shows where the school ranks among all state schools in England: a score of 50 means that it's average. A higher score means it's better than average. Brief descriptions explain how each score was arrived at for this school. Hovering over any of the scores shows further information about the meaning of the corresponding indicator: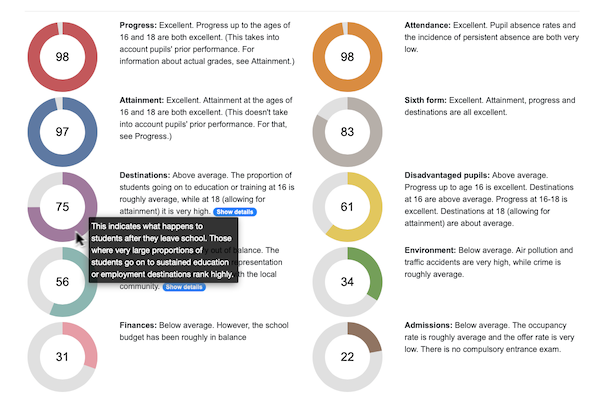 Some indicators provide further details, which you can reveal by clicking on the 'Show details' button: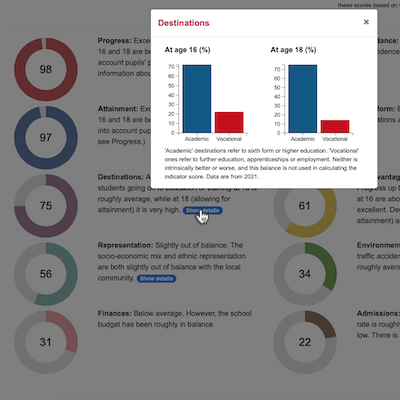 Personalising the scores
By default, the summary score for a school is the average score across all 10 indicators. But these might not be equally important to you, so you can personalise them by clicking on the 'Personalise scores' button and making some factors count for more than others. You can even leave out any that you consider irrelevant: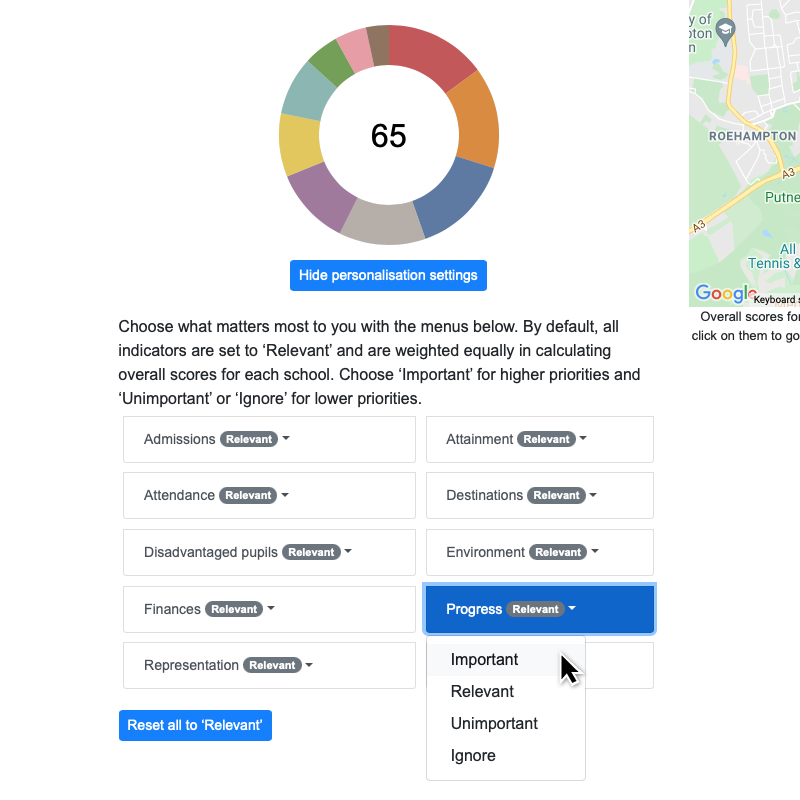 Scores for all schools are automatically calculated based on your preferences, which means that they are your scores, not ours or anyone else's. Your preferences will be remembered until you close your browser, but to reset them yourself, just use the 'Reset' button.
Using the map
The map shows the location of this school and other schools nearby. Again, the score for each school automatically reflects your preferences. Hover over a marker to see the school name, or click on it to go to the page for that school: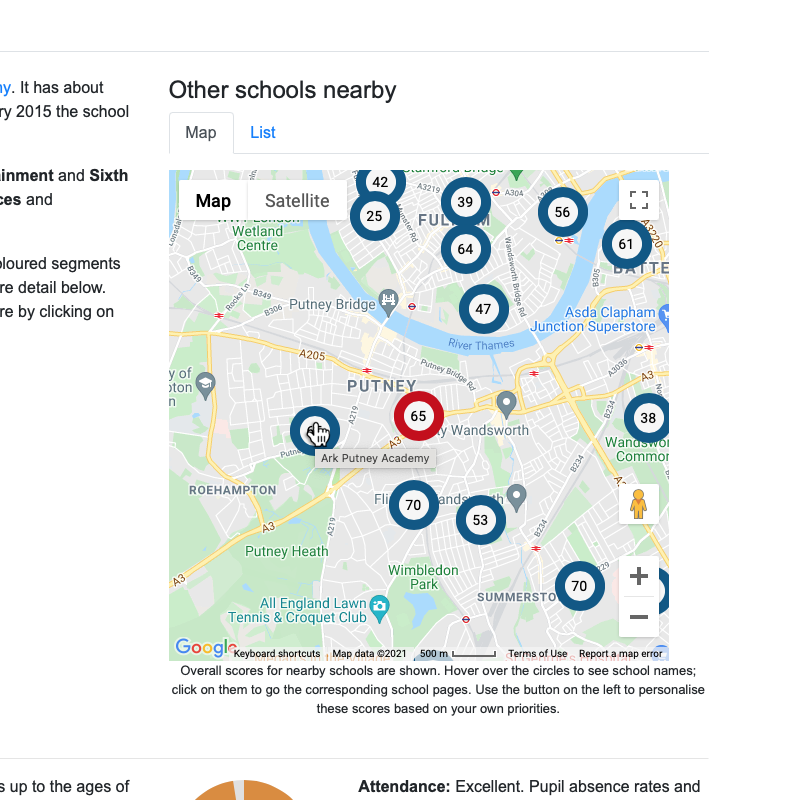 Understanding subject choice and special needs provision
Further down the page, there's also information, where relevant, about the most popular GCSE and A-level subjects for secondary schools, and about any provisions for pupils with special needs: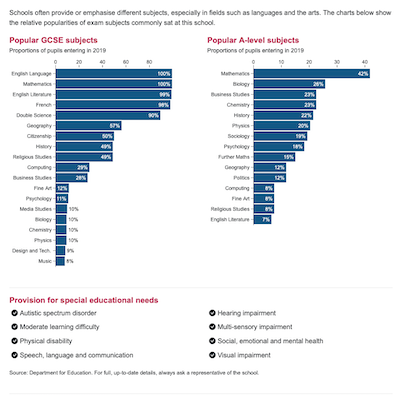 Reading staff indicators
In addition to the school indicators, there is also a separate set of staff indicators. These might be of particular interest if you are thinking of joining the school as a teacher or member of support staff. They work in the just the same way as the school indicators, and can also be personalised:
Finding schools by location
As well as searching by school name, you can also find schools by place name or postcode. This feature allows you to see either primary or secondary schools in the local area. You can view scores for either school or staff indicators, and all of these are calculated using your personal preferences: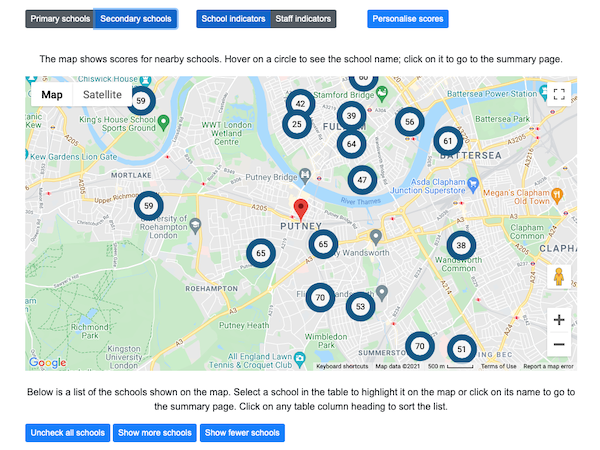 There are controls to show more or fewer schools, and a table of all the schools shown on the map, which you can sort in any way you like by clicking on the column headings. Use the checkbox beside each school to highlight it on the map; remove these highlights with the 'Uncheck' button. Click on any of the schools in the map or table to go to the page for that school: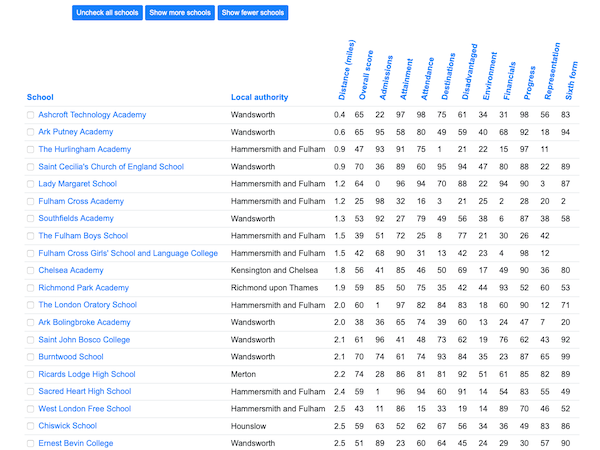 Asking questions and sending feedback
At the bottom of each page is a link to a list of
frequently asked questions
. If you have a question that isn't answered there, or any other comments about
The Schools Guide
, then please write to us:
[email protected]
.
---